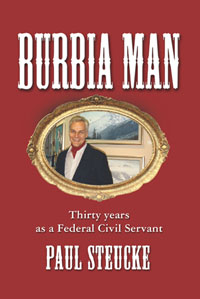 Burbia Man
Thirty years as a Federal Civil Servant
By Paul Steucke Sr.
356 pages, illustrated
ISBN #9781470151454 NEW REVISED !
Published by Amazon.com
Paperback $14.80 plus shipping
"Paul Steucke's Burbia Man is an engaging recollection of his adult life as a loyal civil servant, incredibly talented artist and dedicated family man. His unique life experiences… hardships, challenges and accomplishments are presented with humor and insight. The numerous illustrations throughout the book document historical moments, especially the creation of the Alaska oil pipeline, the Alaska Native Claims Settlement Act, the proposed Alaska natural gas pipeline, and his employment with the Federal Aviation Administration, the U.S. Water Resources Council, U.S. Forest Service, and the Agricultural Research Service.